Composer-Curator 2022-23: Project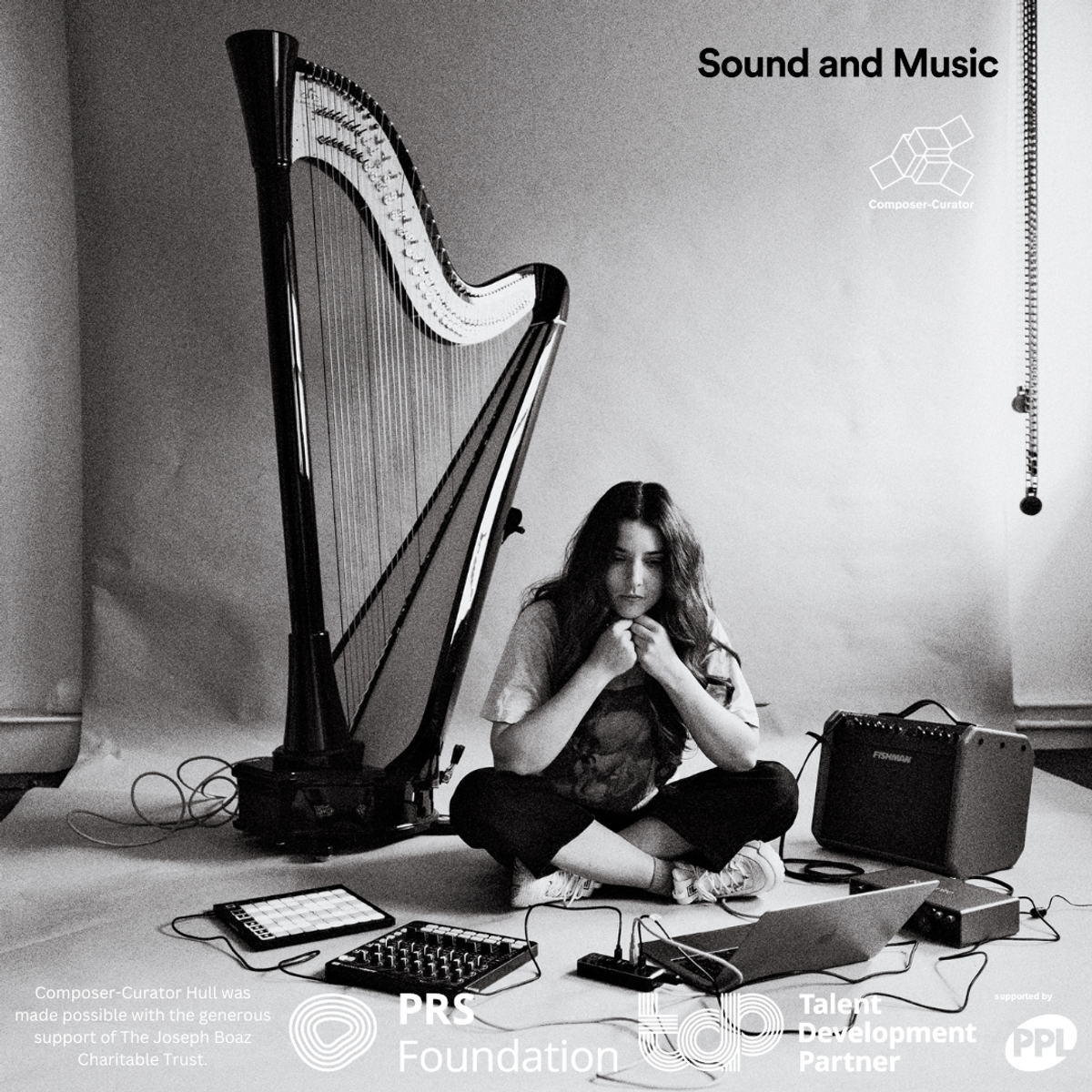 Audio
A recording of the final performance at Trinity Market on April 1st, 2023.
About
For my project Composer-Curator, I wanted to learn how to use Ableton to create live soundscapes to improvise over, and be able to manipulate my sound during a performance. I also wanted to demystify the harp by performing in public spaces and running workshops introducing people to the harp.
During the project I had lessons on how to use Ableton with Mark Slater and focused on three areas: creating a moving soundscape with randomly triggered samples, creating loops from my own recordings, and writing my own beats. I then wrote a through-composed piece of music to perform based on those three areas. I wrote three melodies with chords and used them as a stimulus to improvise from. I also included recordings from a recent trip away to Mexico including sounds from indoor markets and waves on the beach, mirroring the space I was performing in and Hull's connection to the water.
I chose to do workshops with existing organisations who run music groups, they were The Warren Youth Project and Goodwin Development Trust. I enjoyed being able to show the harp and its potential as an instrument in modern music. Participants were able to play the harp, listen to how it sounds and ask questions. I felt it was important to demonstrate that I'm at the start of my journey and it's going to potentially take years for me to be confident using Ableton. We don't often see the process behind developing an album or live show, we see the final product and whilst that may inspire us, we can also fall into the trap of comparison. I tried to bring a sense of authenticity and highlight the reality of learning or creating something new and the process behind it.
I chose to perform in two locations, the first at North Point Shopping centre in Bransholme and the second at Trinity Indoor Market in the city centre. Performing was an important part of the process, I wanted to practice improvising in a live setting alongside the additional technology. I felt it was important to have a positive performance experience, choosing the right situation where I felt comfortable but under some pressure was a main consideration when selecting the venues.
The performances relied on passing trade for the audience. I knew that in the daytime, both places were busy and would provide me with enough people to perform to, but also a low-pressure environment. Both locations allowed me to connect with the audience in different ways. At North Point, a range of people sat and played the harp which brought some truly joyful moments, it was wonderful to see so many people willing to have a go. At the market, I spent time talking to different people about the music and their experience. Some people had come specifically to see me play, and others were just passing by. Here are some comments from surveys and conversations with the audience:
"Hearing a traditional instrument in a modern way was brilliant. My one year old was transfixed through the entire thing, and applauded again when he saw Stephanie later because he was so excited!"
"It was so beautiful, experimental and interesting I loved it."
"My friend came specifically when he heard Steph was on & listening to her made me really happy."
"I like the combination of the sounds of the harp and more "experimental" backing. It's good to see stuff like this happening in Hull."
"It was great it sounded like the twinkly bits at the beginning of a Pink Floyd album."
It's a risk to put yourself out there and potentially receive negative feedback, fortunately, people seemed to really enjoy the performances and wanted to hear more. In the surveys I did of the performance, the question 'how did the music make you feel?' Nearly every answer was a variation of being relaxed. Whilst it's important to write music for yourself, it's useful to know the impact you have on your audience and whether that matches your intention. My most important takeaway from this project was learning that people do want to hear new music and experience something different.
Moving forward, I'd like to get better at production to be at a level where I can really shape samples and recordings to sound how I hear them in my head. I struggle to allow myself to let go and just play, so I'm continuing to direct my mindset towards being open to improvisation and composition. I also have a vision of creating immersive performances and would like to start learning how to use software to create visualisations that react to the music.
I'm at an early stage of composition and so being recognised and funded by Sound and Music and the UK Harp Association has had a positive impact on my confidence. The funding allowed me to buy equipment, film the performance, pay for lessons and, most importantly, be able to take the time to learn something new. I feel like this is the start of my journey and I'm looking forward to further exploring composition and Ableton.
Documentary
Filmed and edited by Luke Hallett.
Special thanks to Sound and Music, The Joseph Boaz Charitable Trust, the UK Harp Association, Mark Slater, and my family and friends for their continued support.